Welcome to the SAR State Society of New York!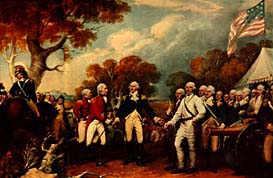 British Surrender at the Battle of Saratoga, New York, 1777
---
Empire State Society News and Events
The March Board of Managers Meeting, The Saratoga Battle Chapter will host the next Empire State Society Board of Managers Meeting on March 24, 2018 at the Pegasus Restaurant in Coxsackie, NY. Coffee and danish will be available at 10 AM during sign-in. The business meeting will begin at 11 AM with a buffet lunch following. Reservation must be received no later than March 19, 2018.

[Click here] for details, directions and reservation form.
---

© 2018 Empire State Society, SAR. All rights reserved; Revised: 12/19/2017