Welcome to the SAR State Society of New York!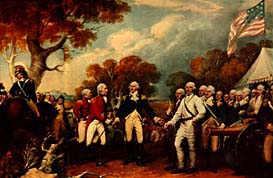 British Surrender at the Battle of Saratoga, New York, 1777
---
Empire State Society News and Events
The Finger Lakes Chapter, SAR will host the state annual meeting at the Ramada Ithaca Executive Conference Center, 2310 N Triphammer Rd. (Rte 13 & Triphammer Rd), Ithaca, NY on Saturday, May 12th 2018. Social Gathering at 10 AM, meeting at 11:00 AM. Please RSVP by May 1.

[Click here] for details, directions and reservation form.
---

© 2018 Empire State Society, SAR. All rights reserved; Revised: 03/26/2018